Turkey Meatballs
Courtesy of Aimee's Adventures

1 lb. Ground Turkey Breast
1/2 Cup Seasoned Dried Breadcrumbs
1/3 Cup Chopped Parsley
1 Egg
2 Tablespoons Grated Onion
1 Garlic Clove, minced
1/2 teaspoon Salt
1/8 teaspoon Ground Pepper
1 Cup Spaghetti Sauce

Preheat the oven to 350 degrees. In a large bowl, mix all ingredients except spaghetti sauce. Roll into 20-22 meatballs. Place a meatball into each well of a mini muffin tin sprayed with cooking spray. Fill un-used wells with water. Bake until lightly browned, about 15-18 minutes. Transfer to a large bowl; add the spaghetti sauce and toss meatballs.
Meatballs are 1 point each!!!!
I ended up making 22 pretty decent sized meatballs with this recipe. I made them on a cookie sheet and they actually ended up taking 25 minutes for my oven. I added some Whole Wheat Farfalle and a mix of red sauces to the meatballs. Great national championship game food (GEAUX TIGERS!!)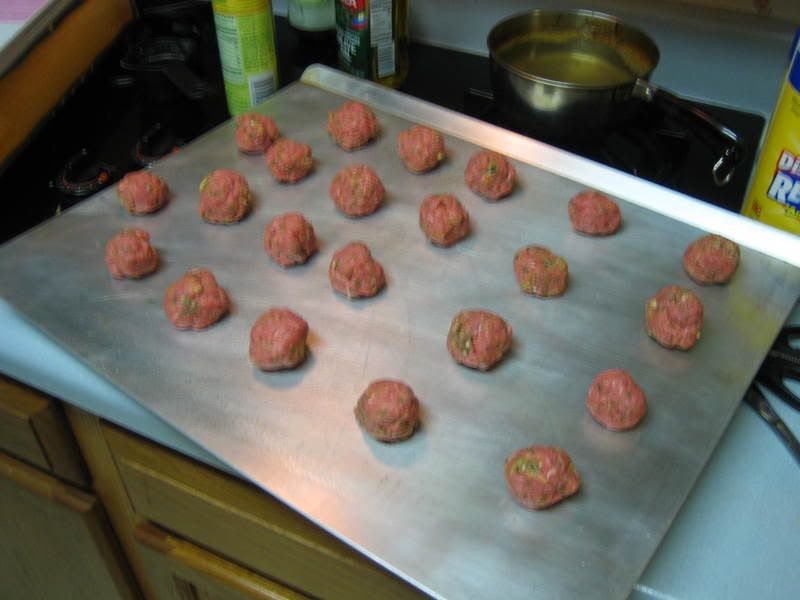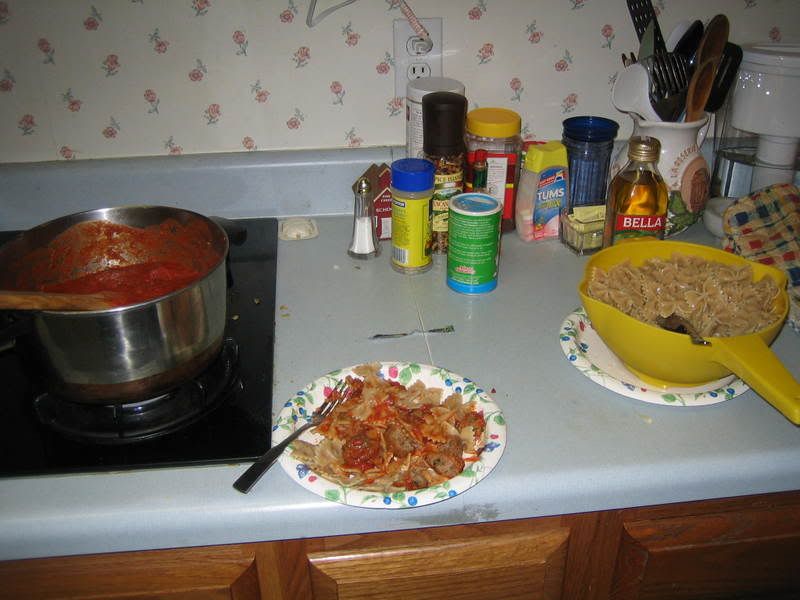 ———————————————-
Diet Coke Chicken
Courtesy of Weight Watcher's Leader

5 boneless skinless chicken breasts
1 cup ketchup
1 can diet coke

Brown chicken in skillet on both sides. Add can of coke and cup of ketchup. Put heat on medium low to simmer for 45 minutes, stirring occassionally. YUM!! Turns into a BBQ chicken 🙂
4 points/breast!
———————————————
Chicken Cheese Biscuits
Courtesy of Aimee's Adventures

5 oz. diced chicken breast
1 can Healthy Request Cream of Chicken soup
3/4 cup FF shredded cheddar cheese
Pinch of Salt/Pepper
1 tbsp Parsley
Pack of Pillsbury Biscuits (type in a four pack at grocery store)

Preheat oven to 400 degrees. Take a cupcake pan and spread each biscuit to where it forms a cup in each cupcake opening. Mix soup, chicken, cheese and spices in a bowl. Scoop mixture into biscuit cup. Bake for about 15 minutes, until golden (timing was right here).
Makes 10 biscuits @ 2 points each!!
I found these to be VERY salty, so I wouldn't add salt to these for the next recipe!
————————————————–
Non-WW Recipe of the Week
I made these a lot for Christmas gifts and my mom requested these to be made. I make these with Splenda instead of sugar though and they come out great!!
Cranberry-Pistachio (White Chocolate) Biscotti
Courtesy of All Recipes

INGREDIENTS
1/4 cup light olive oil
3/4 cup white sugar Substituted splenda in here
2 teaspoons vanilla extract
1/2 teaspoon almond extract
2 eggs
1 3/4 cups all-purpose flour
1/4 teaspoon salt
1 teaspoon baking powder
1/2 cup dried cranberries
1 1/2 cups pistachio nuts
Added 1/2 cup Ghiradelli white chocolate chunks

Preheat the oven to 300 degrees F (150 degrees C).
In a large bowl, mix together oil and sugar until well blended. Mix in the vanilla and almond extracts, then beat in the eggs. Combine flour, salt, and baking powder; gradually stir into egg mixture. Mix in cranberries and nuts by hand.
Divide dough in half. Form two logs (12×2 inches) on a cookie sheet that has been lined with parchment paper. Dough may be sticky; wet hands with cool water to handle dough more easily.
Bake for 35 minutes in the preheated oven, or until logs are light brown. Remove from oven, and set aside to cool for 10 minutes. Reduce oven heat to 275 degrees F (135 degrees C).
Cut logs on diagonal into 3/4 inch thick slices. Lay on sides on parchment covered cookie sheet. Bake approximately 8 to 10 minutes, or until dry; cool.